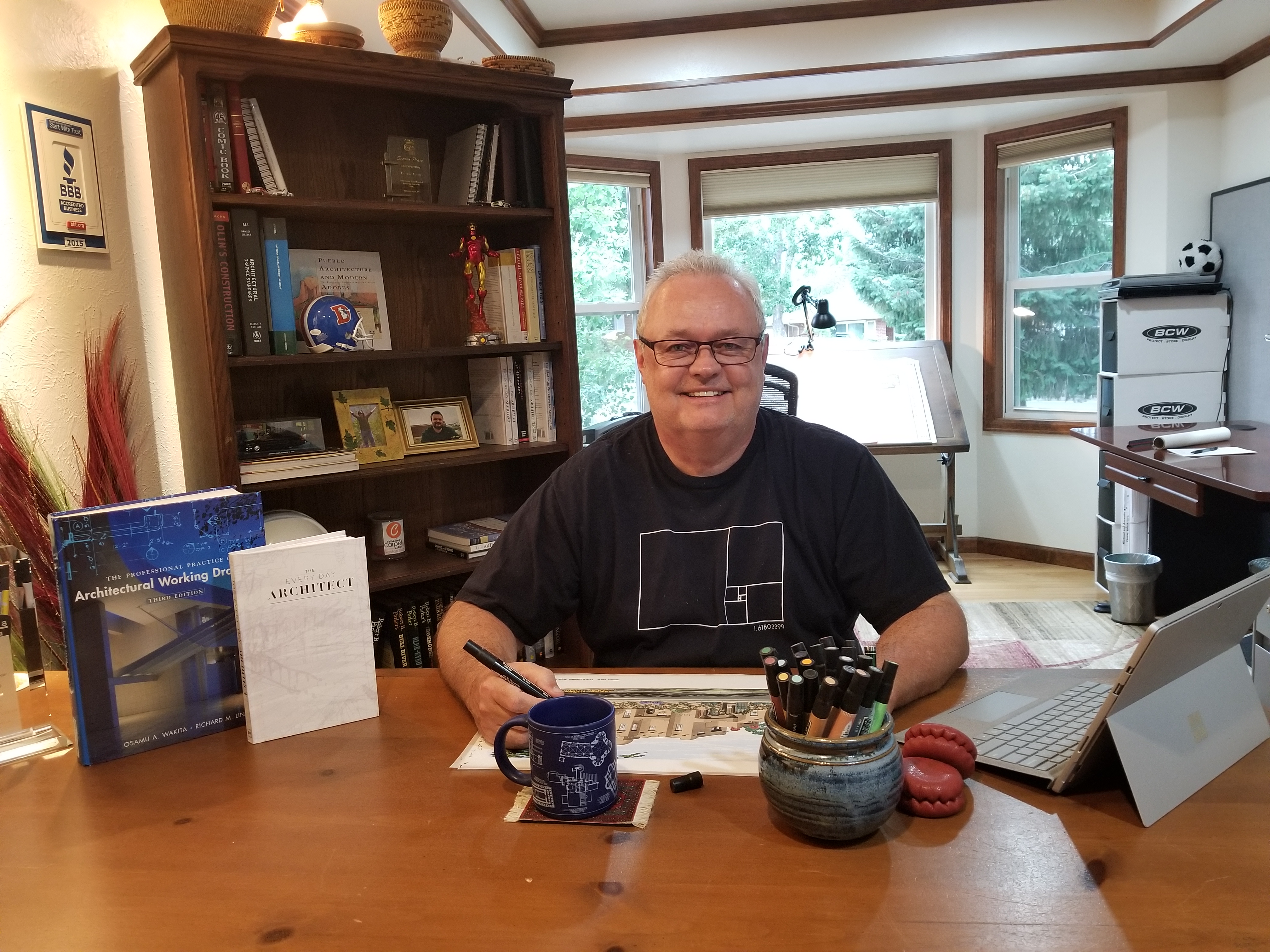 Coffee with Bernie
is a fun, informal roundtable or virtual gallery of colleagues (literally) open for discussion on any industry-related topic. We are not limited to talking about one thing. If you have something to share, please join us. Bring your most unique coffee cup or drinking glass. 
Bernie Kern
is the principal owner of award-winning
BBKern DESIGNS
. Bernie Kern has developed code-approved working drawings for new custom and model residential homes, multi-family buildings, additions, remodels, and light commercial projects for nearly 30 years.
Bernie began the Coffee with Bernie program in February 2020 primarily as a means for AIBD members to interact with its leadership and for leadership to provide transparency. However, being launched one month before a global pandemic lockdown, the show quickly evolved into a medium where residential building designers, builders, architects, and construction product and service providers could gather virtually.
Bernie's future topic line-up
2023's Fourth Quarter Theme: Building a Strong Foundation
October - Micro-Business Management

Setting up your business structure.
Financial planning and budgeting.
Time management and productivity.

November - Marketing and Branding

Developing a unique brand identity.
Creating a market strategy.
Utilizing social media and other digital channels.

December - Networking and Collaboration.

Building relationships with industry professionals.
Collaborating with architects, engineers, contractors, and suppliers.
Attending industry events and conferences.

---
Below are the links to recordings of past episodes (Not all of them, unfortunately. We're designers, so we're not done yet - LOL).

Our generous Premier Industry Partners pay for registrations for all live shows and replays.


Marketing strategies are essential for any business, including residential design firms. One crucial aspect of marketing is identifying and narrowing down your target audience. Many designers may hesitate to do this because they fear missing out on potential clients. However, the opposite is true. By targeting a specific audience makes you more likely to attract the right clients and increase your sales. In this episode, Bernie and his guests discuss the importance of narrowing down your audience for effective marketing strategies and more.
Bernie begins the discussion by asking the question, "How has incorporating technology into your designs enhanced your clients' experience or satisfaction?" The answers ranged from 3D modeling to using AI in design and using 3M VAS (Visual Attention Software) to review your work. The conversation migrated to sustainable or eco-friendly design practices that have significantly impacted our projects. Lastly, Bernie and others shared examples of a universally accessible design feature that have successfully implemented.
Bernie led off by talking about the basics of design. Such as laying out floor plans and the little details he's learned over the years from others and by making mistakes. He then shared about the leg work that he has to do in advance of begining his concpet drawings. Then he provided an example of how he does his bubble sketches. Bernie then opened up the discussion to answer the questions, what helps you start your design, how do you layout space, are there dos and don'ts in laying out floor plans, what technique do you use to get started, and do you use this technique on every project? 
Bernie is excited about the progress the AIBD chapters have made in getting reorganized and relaunched since the pandemic shut everything down. He also can't wait to announce the formation of a first-time chapter coming online soon on Maryland's Eastern Shore. Starting a chapter is a challenge. One viewer testified that designers in their area are highly competitive. But Bernie helps us all through the steps from inception to implementation. Other discussions include the benefits of joining the local building officials association. The CE policies for CPBDs and wait for it, until the end that is, for one designer's "disaster" story. 
Bernie confesses he hung up on a client this past month. There was a lot of reassurance and empathy from his guests. The group also discussed how to find the right clients, owning up for your mistakes, the different categories of clients, and email faux pas. The show's second half is about the most painful points of dealing with clients, how to handle the question, "How long will it take?" and, the "Weasel Word Clause." 
Colorado has just introduced a 105-page bill that would mandate communities to infill. To create opportunities for ADU's, duplex, triplex units in what has traditionally been single-family home zoning in order to bring Affordable housing to all. Other states might be going through similar mandates. Larry shares his ideas on how to get affordable housing from land use to construction methods and design. (01:03:45)
The AIBD's winter conference just wrapped up and Bernie was in attendance in North Myrtle Beach, South Carolina. The event was delivered virtually and those who attended virtually gave their comments and suggestions. The discussion then moved to the next D&B, in Nashville. The proposed theme and things to do while you're there. The group offered a number of topics they would like to see future conferences tackle. The discussion moved to how to handle clients that bring in copies of published plans and ask you to reproduce them and there was a few minutes left for "Share a House."
This is Bernie's first show since stepping down as AIBD president. To commemorate the event, Bernie is is own first guest in theis new era. Interviewed by AIBD Executive Director, Steve Mickley, Bernie shares how he began designing homes, what attracted him to AIBD, what advice he would give to his younger self, as well as what his plans are for his life in AIBD after being president.